We were incredibly lucky with the weather again this year for the race. There was a bit of snow on the ground but as we made our way up the first hill with the sun shining on us layers were coming off and being stashed in packs. I was grateful of Susie's help at this point, she held my kit while I took my jacket off which was a great help.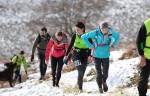 I find this first section of the race very steep and was already walking the hills. I find I need to save energy for the later more runnable parts of the race. The track is quite narrow at this point anyway so I just settled in to the pace of those around me and enjoyed the surroundings.
I was taking a few pics at this point but promised myself once the terrain got a bit flatter I would put my phone away and focus on covering some ground. For the first part of the race I was trying to keep Andrea in my sights. It wasnt until after the halfway mark that I began to catch up with her and this gave me a boost. I tried to stop being destracted by the beautiful scenery and remember I was meant to be racing. I stuffed an energy bar in my face around the halfway point as I knew I would need it later. Some sections of the race are a bit flatter and you can get a bit of running in, these are my favourite sections of this race, you are running over the hill tops, crossing stiles and navigating the heather.
There is a nice downhill section leading to the burn crossing which is alot of fun in the snow as it is not too steep.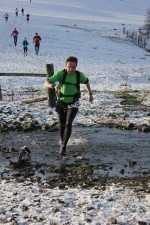 After the burn I got close enough to Andrea for us to have a bit of chat as we made our way upwards again. There is a nice trail section before you head on up the last hill that is a real calf burner. Helped only by the view back across the valley behind you. I had an energy gel just before I hit the hill and finished the water I was carrying.
This is followed by some steeper downhill that in the snowy conditions frightened the life out of me. Of course there was a well positioned photographer there to catch our expressions.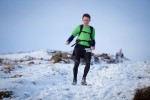 The track near the end was also quite treacherous and I was hopping from side to side trying to avoid the icier parts. Once back in the field that is the start/finish there is a very boggy bit to contend with before you do the final sprint to the finish. At this point Andrea and I were neck and neck and I just managed to get my toes over the line before her. I didnt hang around long at the finish as I very quickly began to get cold. So it was off to the Rugby club for a hot shower and some hot grub. There was soup and haggis neeps and tatties. Also plenty of hot tea and biscuits. This is a fantastic race and I enjoyed it just as much as last year, I was also a couple of minutes faster even though there was more snow this time. Results were up very quickly along with plenty of photos. I cant wait for next year!
Well done to all the harriers who took part. X
Results:
20 Des Crowe 01:50:30
83 Rob Wilson 02:11:50
135 Sadie Kemp 02:31:35
136 Andrea Wilson 02:31:36
154 Susie Maxwell 02:38:53
186 Gilly Marshall 02:59:57