Ever since I first heard about this race I have been inspired by it and was keen to take part. The idea of running around the entire perimeter of an island in one run over beaches and countryside just sparked something inside me. That and the fact we would have to make a weekend at least of it as you need to get the Saturday ferry to race on the Sunday and then can't get off the island again until the Monday due to the timing of the sailings seemed quite exciting. The ultramarathon only started in 2014 with 40 runners and has steady grown over the past 2 years purely it would seem by word of mouth as those who have run it tell others who become equally inspired.
When I first looked into the race the Saturday ferry left Oban at 7.15am – pretty early, but we were going to stay in a B&B or hostel in Oban and although we would have to get up early, that's still not too bad I thought – then we got the news that there was a cattle market or something on and so the ferry would now be leaving at 5.15am and you need to be there 45mins prior to sailing! Urgh Quick change of plan – we ditched the driving through the night plan to arrive at 4.30am and went with the drive up in the evening before, get our foot passenger tickets, have something to eat and then bed down in the car for the night. Everyone on the facebook page for the race seemed in agreement that the best place to park if you were going to abandon your car for the weekend was by the Leisure Centre so that is where we duly went. The car park was practically full – and the leisure centre was shut so this is obviously a well used spot to leave the car. There were a few cars with the tell tale condensation on the windows so you knew there were already some people bedding down for the night. We parked up and pulled out the sleeping bags, set the alarms and fell asleep. We woke up at 4am and the car park was already a hive of activity and you just knew they were all here for the Tiree ferry. There were bikes and rucksacks all around and a bit of chat between us, I felt like the race excitement was starting already. We cycled down to the ferry terminal and boy it was busy, we were nearly at the back of the queue of bikes waiting for the ferry. Loads of people were obviously cycling and camping and had big rucksacks, tents and sleeping bags and mats attached. My rucksack was probably larger and heavier than everyone elses and we were staying in a hotel! I really need to hone my packing skills if we do this again.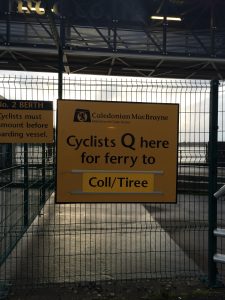 We were told that bikes normally get on the ferry first but I think they took fright at the number and put the cars and foot passengers on first and we were last ones on – there were not many seats left by the time we made it up and people were spread out over 3/4 seats ready to go back to sleep, we managed to get a couple of seats in the TV lounge and had to suffer Jeremy Kyle at 5.30am in the morning arrrrgggghhhhhhhh! I went out on deck and watched the waves go past it was much more relaxing. You could tell that most (if not all) the people on the ferry were here for the race and there quite a few familiar faces. Our ferry docked about 9.15am and off we all got. I was a rather unsteady cyclist with my giant rucksack cycling up the single track road.
We were staying at the Scarnish Hotel which was only a few minutes cycle from the ferry port, our room was not ready yet (well it was only 9am!) so we left our bags and went out to explore the island a bit. All the roads are single track with lots of passing places and everyone was very accommodating to other road users with lots of smiles and waves as bikes and cars pulled over to let each other passed. We did not get very far when the first wave of rain came over and before long we got very wet very quickly. We stayed out for a bit longer but as we were in jeans and no waterproofs we headed back to the hotel and sat in their upper deck which had a stunning view over the old harbour with some of the other guests waiting for our room to be ready. The whole hotel was booked up by runners so it was a good atmosphere.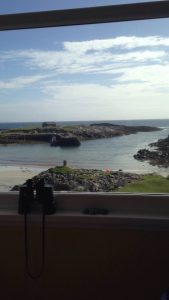 Registration and the race briefing was at Crossapol about 3.5 miles from the hotel on Saturday night. Once again we jumped on our bikes and headed over. I registered and got my number, t-shirt and Tiree goody bag which amongst other things included our requisite map and some tasty fudge, postcards and a wrist band. I had not ordered a hoody but as more and more people were walking about the hall wearing theirs I started to wish I had so Alan fed up with my moaning told me to just go and buy one. So I did! Another hoody to add to the collection and as if I did not have enough stuff in my rucksack I now had more clothing to add to it.
Will Wright, who is the founder of Tiree Fitness and the organiser behind the Ultramarathon gave us the briefing, he is a formidable athlete himself who had earlier in the week run the course himself beating the course record in 4.37.39! We were warned to keep our maps with us and that although the course had been marked, the terrain is open, wild and remote and that any of the cows and sheep could have knocked the signs over or trampled them so there might be some missing, but as long as we kept the sea to our left and followed sheep tracks (there aren't really any paths) we should not go far wrong. Briefing over we headed back to our hotel for food and sleep.
The race started on Sunday morning at 8am and with registration already done, we just had to arrive with enough time to leave bags in the hall and make the short walk down to the beach where the race would begin. Alongside the full Ultramarathon runners, were also runners running the distance as a relay either 2 or 4 person teams. It was overcast but warm as we arrived at the hall and bikes left we headed down to the beach. There was a big grey seal who kept popping up in the sea watching us all, he must have wondered what on earth was going on as he was there for ages bobbing in the waves. We had a big countdown, shouts of Tiree and then we were off. It had been raining overnight and although it was high tide the sand was damp so not too bad to run on. We ran along this first beach which was about a mile long and I was keeping a good pace and towards the front half of the field and holding my place, we came off the beach and onto a road which we followed for a couple of miles, the islanders were out cheering us on and I settled down, I realised I had maybe started a bit too quick and my legs were aching and I was breathing quite heavily. I don't think there is any perfect shoe for this race as it is beach, rough ground or road – I was wearing my Salomon speedcross, they are quite old now so the lugs are pretty worn down but it's still hard going on the roads but I could not face wearing my road shoes on the beaches so I figured it was my best option. I was starting to get a few people passing me and I was getting a bit disheartened, then another load passed me and I was cursing myself, the people I had been running beside were disappearing out of sight. I had had such a good run at the Devil where I was the one doing the passing and I thought I had got stronger but I just felt so slow and heavy and I was not mentally in a good place. I had to give myself a serious kick up the arse, here I was in a race I had been wanting to do for ages, on the most beautiful island, I had just run a 43 mile race a few weeks previously and had probably not rested properly in the meantime and I was only about 4 miles into a 35 mile race. I had better get myself in the right frame of mind now or I might as well chuck it in and go home.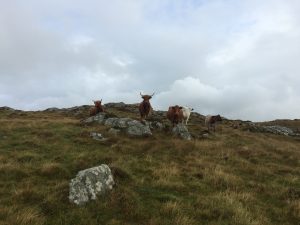 Deep breath, get your head straight, get on with it! With a better mindset I pushed on, we were at Hynish which is probably the wildest part of the island, 14 miles out to sea is where the Skerryvore lighthouse is, and I was passing the barracks that were built to facilitate building it which is now a museum, I have read all about it and I was quite excited to be passing it and recognising it from pictures I had seen. The sea around here crashes into the rocky coastline and we headed into Happy Valley, there is no path, just really rough tracks, the ground is boggy and the man in front of me lost his shoe and had to stop and dig around to retrieve it. The rougher ground is my friend and no one is passing me now and I even make up a couple of places, I look around me and I feel revived, sea stretching out as far as the eye can see, no other land to be seen, waves crashing over the rocks and beach below, clambering over rocks and I can see "the wall" up ahead. Tiree may not have much in the way of hills but it is not flat! We climb straight up having to use hands and feet to scramble up. Once up we carry on through the rough ground and before long we hit our next beach, all the beaches have their own individual characters and this one had big waves and great surf, as we ran along the edge of the surf line the people in front of me were dashing out of the way of the lapping waves but I just let it wash round my ankles and I ran splashing through the waves. I arrived at the first checkpoint at about 8/9 miles and one of the girls I had been keeping pace with handed over to her next relay runner and was gone, oh well at least I managed to pace someone who was only doing a quarter of the distance I was. I grabbed a drink of water and a handful of crisps and walked out the checkpoint eating and drinking. I was pleased to be through CP1, I had found the first section hard and despite everything I was still sort of on target for my hoped for time. I started running again, keen to see what else I would see on my journey, we had another beach section and then a lot of dunes, these were tough on already tired legs and I found myself slowing again it was a relief to see a yellow arrow now and again as it was hard to know if you were going in the right direction, the other runners were hidden behind the mounds of grass and sand and only occasionally would you see them appear and the disappear again. We were directed to a point where a marshall was standing and as we got to him he said "your just here to see the view" and then we went back more or less the way we came over some rough open grassland until we hit another long road section where I pushed hard to keep going, it's hard running on the sand and dunes and you think when you hit the road section it will get easier, but if anything it feels harder! One more beautiful beach following the footprints of those in front and more rough grass and we hit the half way checkpoint. Al was waiting for me here and he did not get a very cheery welcome, I was sore and exhausted, the heat felt quite oppressive and the going was harder than I thought so I was running slower than I wanted. I had heard that a lot of people changed their shoes at this checkpoint but although I had them ready I decided that I would just stick with what I had, my feet were alternating between wet, muddy and dry and I did not see this changing so stuck with my Speedcross. I devoured the contents of my drop bag and grabbed some peanuts, got a wee pep talk from Alan and headed off round a field back towards the coast.
At this point, it is the narrowest part of the Island and although the sea was to my left, if I looked over to my right I could see the sea on the other side of the Island. I passed a sign saying Crossapol 3 miles – but I was taking the long way, i had another 16 miles to go. I don't know if it was a mental thing at passing the half way mark, or the fact that I was now approaching 20 miles ( I always feel terrible between 15-18 miles regardless of the distance I am running) or maybe it was the chocolate milkshake that did it, but I was feeling better, and this section passed really quickly. As we hit beaches I was reeling people in and passing them again and I felt a bit lighter and my limbs were moving easier, I was picking my own lines along the beaches, some were quite rocky and some were covered in seaweed, the tide was going out so we did not have to run along the high tide line anymore and were running across the body of the beach, footprints disappeared almost as soon as your feet lifted of the sand, the sun was shining and I was smiling. We had a crazy stretch across a really rocky boggy field that had no definitive paths just vague sheep tracks that seemed to lead you into even boggier ground. I was trying to jump from rock to rock but I did not have much spring in my step so I was not exactly free flowing! I lost my feet in the bogs a few times and kind of gave up trying to keep my feet dry and just took the best direct line I could. Cp3 came into sight and I grabbed a coke and proceeded to miss an arrow and go the wrong way – I could see some other runners on the other side of the hillside so I cut cross country across more bog to get back on track. We had a fair bit of more rough ground and was spending a lot of time watching my feet so that when we came out on the next beach I was surprised to see where I was, Gott Bay, the longest beach section but definitely the homeward stretch, I knew that after the bay was the harbour, then our hotel then the final beach and finish! This beach was about 2 miles long and the tide was way out so we were able to cut across the middle, it was a bit like a mirage as the beach, the sea and the sky were all the same colour and it was hard to see where one ended and the other began, I loved this beach and had such a good rhythm going, I could see other runners walk/running but I just kept running splashing through the waters edge, then we came up onto a stretch of road and my legs just died, I tried to run but I had nothing in me so I just walked, I was a bit annoyed that I was walking but I knew this was a long road and thought lets just walk and get a breather and then get going again. I had a few runners pass me here and I chatted with quite a few who walked beside me for a while and then headed off again. I got running but it was not a graceful gait! I was so pleased when I saw the arrows pointing off the road and back onto the beach – our last beach! I ran this last beach, the whole time you could see the finish line, but it was still a bit away, I could here the crowds but I was not there yet, a little track of the beach and back onto the road and the final stretch – the finish line was lined with bunting and finishers and families sat on the grass cheering each and every finisher over the line. I picked up my heels and ran! Medal round my neck – phew, done it!
There was the most amazing spread of food cooked by Will's wife lasagnes, chillies, soups and loads and loads of cakes. We stayed for some food and then jumped back on the bikes and headed back to the hotel cheering on those still out running as we went.
There was a ceilidh and prize giving in the evening at the hall with spot prizes too including a prize for some 2 islanders who in 2014 ran the 4 person relay, did the 2 person last year and this year ran the whole thing. It must be hard to train for these distances on such a small island! I was glad to get at least one dance in before we called it a night.
The next morning we packed up and caught the ferry to Oban which I think was occupied solely by those who had been racing. It was a sea of Tiree t-shirts and hoodies.
This was a most amazing race on a stunning island which lived up to all my expectations. I loved running the beaches, the open skies, the dunes, the fields and even the bogs. I was not expecting an easy run but it was more challenging than I thought it would be. I might need to come back and give it another shot now I know what to expect but I would need to stay longer!
Results
70 – 7.19.49
147 ultra finishers
No breakdown of male or female or ages in results.
17 relay teams of 2
10 relay teams of 4
If you are inspired to visit Tiree but don't fancy an ultra, they do a 10k and half marathon in April
Www.tireefitness.co.uk