15.2KM 670 climb (m)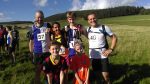 I decided to give this race a try this year instead of doing the skyline due to having marathons so close I thought my knees would not cope with it. I am so glad I gave it a try, we were absolutely spoiled by the weather. It was glorious. I enjoyed watching the sheepdog trials that were going on before and after the race too.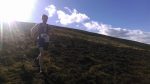 The running is mostly a gradual climb that becomes a bit steeper towards the final push. There are some nice runnable sections although the heather makes it a little hard going. The route for the most part was marked by white flags and there were several marshals on the way to keep us right. It is an out and back route, with the return journey being almost completely downhill, allowing you to really push on the way back.
I was very pleased to win a prize (first VF40 and second lady) even though I know it was just because not many women were running. For some reason it was a very male dominated race. Next year they are celebrating their 25th race so it would be great if lots of harriers could go along to join in. All the runners received a free beer at the finish, what more incentive do you need?
There were also junior races and a fun run for the little ones, so something for everyone. 🙂
Results:
position time cat position
27 01:33:06 Michael Greens 17
38 01:39:39 Alasdair Hind 12
39 01:39:40 Gregor Gorjahc 19
47 01:53:29 Sadie Kemp 1