In my defence, this race is 53 miles so the report is 53 miles worth 😀
What a day for Penicuik Harriers, 8 of us running the full 53 miles and 4 running the relay
race.  Months of training, early mornings, eating just for fuel, back to back runs and sorting out hotel and travel plans, which luckily we have Gilly as our travel co-ordinator for!
It was very exciting when we were walking to the coaches at the Kelvingrove Museum that would take us to Milngavie, it was 4.15am and we were buzzing. Great to arrive at Milngavie Station and get our drop bags into the right vans, drop our luggage that would be taken to the finish and find our team.  A fair few photos and last minute nerves, eating, loo trips and then we were lining up ready to start. We set off in waves with the speedies going first so we had a bit more time for photos and excitement. The send off as we went up to the High Street before joining the WHW path was incredible, really motivated us. As we were heading along the first mile Yan's dog Flash got loose and was running along with us trying to find his master, soon caught by Yan who managed to run back to the start and pass us again – what a guy!
I split the race into 4 sections in my head and the first section to Drymen is relatively simple stage on footpaths, minor roads and made up path on dismantled railway trackbed, it is pretty runnable with lots of long straights and passing through fields and farms. I was with Gilly here and Sadie and Tracy just ahead of us and we all seemed to be settling into our pace and of course chatting away the whole time.  The Fiddler was at the gate and you could hear her playing as you got closer, these little things stick with you and help you on your way.
There are so many ups and downs and the route constantly changes from woodland to open path to a bit of road then back in the woods. A lovely run up through the field to lots of cheers and shouts from relay runners at the changeover, we saw Andy here and we left there just buzzing (still).
We were now onto the next section to Rowardennan which included our drop bag point at Balmaha. Really nice paths and tracks most of the way. The only significant ascent being the section of the route over Conic Hill but that is such a nice climb and Gilly had us all prepared for the photographers at the top 🙂 The run off Conic is not for the faint-hearted, you don't want to fall here!  We got our drop bags at Balmaha and were pretty chuffed not to have been caught by the Harriers relay team yet. It wasn't long though and Allan Dunbar got 2 sweaty hugs from 2 very happy girls! Out of the woods and the path turned onto a few bits of road and straight paths, not my favourite things and not wanting to hold Gilly back I sent her on her way, I was glad because she promptly ran up the hill the rest of us were walking up 😀
Lots of this section between the road and the shore of Loch Lomond, it is not very hilly but changes enough to keep things interesting. I was concentrating on eating my food and getting through my isotonic drink because I wanted my bottle empty before the next drop bag point.  Also trying to remember to have a gel every 4 miles when you don't really want to is quite hard.
Arrived at Rowardennan to lovely support from Allan, Ian and Mandy. They helped fill my water and just basically looked after me and encouraged me – I am so grateful to them. Headed out of there eating my Marmite rice-cakes which I actually think I might have now put myself off due to having eaten so many.
The next section to Beinglas includes the Inversnaid Drop point. Running to there is mostly forestry track following the eastern shore of Loch Lomond with occasional diversions onto a rocky path with crags and boulders. It was nice running and along here I chatted to Richard who had run the Boston Marathon the week before, he doesn't remember seeing Jan but I did ask. I also got to know Pink jacket girl and grey hat lady, we had some good laughs about the craziness of what we were doing. It is hard to pass anyone here so we all really stuck together.
Wonderful to hear Mark Dawson shouting as I climbed through the woods to Inversnaid, got a great photo and a hug which is as good as 20 jelly babies for keeping you moving.  Another hug from Ezmie who gave me my drop bag at Inversnaid, again lots of encouragement and help to send me on my way to Beinglas Farm.
This is by far the roughest section of the Way, where the path makes a tortuous route along the side of Loch Lomond with many ups and downs that are very technical and you really have to have your wits about you because you could easily fall.It seems to take forever to get to Beinglas but the paths open out before you get there and the views are beautiful if you manage to take your eyes off the path. I had lost Richard, Pink girl and grey lady until pink girl shot past me saying she'd just had 100 jelly babies and I would catch her up when the effect wore off 😀
Greeted here by yet another Harrier Michael Philp, who then helped me reload my bag and get rid of all my wrappers, I had some coke here too. Another hug (at least 20 JB worth) and I was on my way for the last section, 39 miles done and 14 to go – I can do this!!
Unfortunately my foot started to hurt as I ran into here but I knocked back the offer of paracetamol from the First Aid guy, I regretted that further on but did get some off of another runner. Didn't help at all 🙁
Onto the last section, this was my section when I ran the relay years ago and I love it!  It is beautiful open countryside with spectacular views and lovely undulating paths that include Cow Poo Alley. It was not too pooey but pretty muddy, no point faffing around with avoiding it all my new pal Purple Top lady and I just went right through. She was scared of cows so sticking with me, she didn't ask if I was scared of cows so I held off (I know you won't believe it) on telling her my Turnhouse Hill Race cow chase story!!
I was looking ahead and seeing the forest coming up, this section is known as The Rollercoaster and I love it so was thinking about this when I heard a shout from a voice I know well – Chris Downie!!! Well, what can I say but this was the loveliest surprise and hug (at least a 50 JB) and I am so grateful to him and his pal who looked at me like I was mad and laughed as I declared my undying love to Chris for being there at 45miles for me.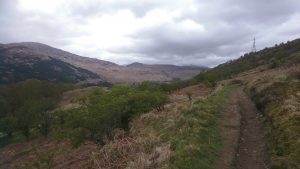 On to the Rollercoaster – woohoo let the fun begin 😀 This was brilliant, Purple Top was with me again and we whooped and hollered our way though, the blokes we passed were laughing at us and wishing they had our energy. When I heard the road I knew that I didn't have far to go because once I was across that then it was about 3 miles of open farmland, Strathfillan Wigwams and then the heather path to the finish. I was having a ball now, passing people and encouraging them with how far we had to go and this would be over, they probably hated me!  I passed the guy who gave me the paracetamol and he said he would report me for drug use, I said I'd report him for dealing and we had a wee laugh as runners do when they are at 52.5miles and nothing matters any more.
When I heard the pipers I nearly cried, when I turned the corner onto the red carpet I couldn't stop smiling, didn't see Gord who took a photo of me because I had tears in my eyes, got though the line and was met by Gilly's husband Alan who gave me a hug and I had a wee sob. I just couldn't believe I had done it, all by my little self, all my training, eating, missing out on treats (especially alcohol) had all been worth it because I had run 53 miles of the West Highland way in 12h 37mins and had the time of my life!!
Got my medal, t-shirt goody bag and a hug from Gord, the best hug of the day.
I went straight to the First Aid tent for the ice pack I had been dreaming of for the last 14 miles – bliss for my very sore foot!!!  Then soup, beer and find everyone else.
Great to be part of this and share it with such special people 🙂
Gord had a cool-box in the car with prosecco, beer, chocolate, gin, cider and a box of sweeties – this was bliss although we couldn't really partake in too much as all a bit tired and wobbly.
Home by midnight and full of emotion for a spectacular day that showed me what a great running club I am part of and what true friends I have who support and help me when I need it and a husband who has put up with my running obsession since we met but I think I have pushed it with taking on Ultras. I have now done 6 and have the Devil in August but not sure if I will manage it after the state my foot is in and have promised no Ultras next year and now that I have written it here I might just stick to it…….
53 miles run
102,648 steps
7,253 calories burned
Sense of achievement – immeasurable
Yan – 10:53:20
Tim – 11:32:54
Tracy & Sadie – 11:59:04
Gilly – 12:08:11
Susie – 12:37:10
Lori – 13:30 (I think)
Chris – 15:00 (I think)
Peni's Mightier Than The Sword has just finished Highland Fling in a time of 09:16:44
If anyone is thinking of stepping up to Ultra distance then this is the race to do. It is so well organised and a wonderful thing to be part of.
Ding Ding!