As the "designated navigator" for our Roc Mountain Marathon A course, I didn't get off to a good start when losing our way through Carlisle city centre. I also failed to find the promised evening meal in Egremont. Fortunately we were given directions by the very nice landlady of the very grotty pub whose advertised food,
had it been available, might not have been the best preparation for serious athletic endeavour. Ninety minutes later, after driving through heavy rain, and filled by copious quantities of battered fish, scampi chips and mushy peas, we arrived at the event centre near Millom. After a thorough registration process with team "photo", we got the tent up in a very wet and muddy field and turned in for the night.
Sorry if what follows is accompanied by photos of maps, but GPS-enabled smartphones were not allowed and cameras have positive mass so I didn't take one.
In the morning the clag was down so I confidently suggested that we leave later than we might in the hopes that it would lift. It didn't. So, after I marked up my map and Yan folded his up neatly into his bag, we set off and were soon walking strongly up into the cloud. The control descriptions sheet stated a course length of 39km with 1800m climb, but neither of us spotted this! Fortunately, after reaching the top of the obvious crags, there was an obvious spur to aim for and, with an altimeter for the height, we found 201 easily. From there, we climbed up to our high point of the weekend (c500m), crossed a track and headed down, out of the cloud and straight to 203. By now, since we'd covered about 5km in 01:13, with roughly 200m on tracks, Yan was realising what this mountain marathon business was all about. He'd also discovered that walking uphill on trackless terrain was painful if you have a broken rib: his diet for the day was to alternate between paracetamol and power bars. After another short but rough leg to 204 came a long downhill, which doesn't hurt as much with a broken rib. However, we paid for that with a long uphill climb into the cloud before a long leg ended with the compass and altimeter bringing us neatly to a control in a steep gully. And so it went on, for a long time. Just as Yan was running out of water and cramping up, we dropped down almost to sea level in Eskdale. Now we were navigating country lanes [the purple is "out-of-bounds"] with me grumbling that "this isn't a mountain marathon". Yan's legs by now had decided to protest about being forced to cross trackless terrain and being denied hydration by refusing to work properly on roads. Fortunately we climbed up out of the valley, pausing briefly to wave at the passing narrow gauge train. Uphill progress was slow, but at least a slightly dodgy-looking stream provided Yan with something to drink – and take another paracetamol. I'd also long since run out of water. Although there were some paths, the terrain became rocky as we
contemplated whether we'd reach the overnight camp before the courses closed at 18:00. We had our first encounter with a young pair Jack and Eleanor, who caught us just as we'd found 257 where, since I'd failed to pick up the dotted track from the north, we had to come in from the lake. Jack and Eleanor disappeared off into the distance, leaving us to navigate the out-of-bounds. This was trickier than it looked on the map since there were far more paths on the ground than marked. Fortunately we managed it and, after briefly taking a path which went down rather than up, I found the route up to 243. As we were leaving, Jack and Eleanor appeared, having had much more trouble than us with the out-of-bounds. History repeated itself as they shot off and we plodded on. By now I was trying to identify routes with minimal climb, even if it meant a little more distance. At long last we had another decent descent, and arrived at the final control, just where the altimeter said it should be. When we left, we soon saw Jack and Eleanor coming back uphill towards it, once again indicating how much time can be lost by bad navigation. That gave us a lead which we kept all the way to the finish, thanks to Yan's re-hydrated legs giving him renewed road speed. At the finish camp, we learned that we hadn't been timed out, so our 09:18 had beaten Jack and Eleanor [who had started well before us] by 17 minutes, and was only five minutes behind another team, so were 8th of 9 finishers with 2 retired. Elated, we pitched the tent and I sat in the tent doorway to start boiling water for hot food. Yan's meal-in-a-pouch didn't re-hydrate as it said on the pack, unlike my cheesy pasta and two packets of Supernoodles. Fortunately, after heating Yan's meal through in the pan, it became edible. At the end of this culinary process, I was full and warm and Yan was cold in the stiffening wind [sorry!] We went to sleep at 08:00 and hardly stirred until 06:00!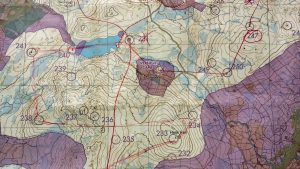 Sunday morning was cold but the skies were largely clear. After Yan's porridge-in-a-bag (which worked) and my patent oats-sugar-milk-and-hot-chocolate-powder mixture, we packed up the tent and, with nothing else too do, started our day 2 course at 07:20. Suddenly there was a track for Yan to run along for most of the first and second legs to 231 and 241: we were flying! Then it was back to climbing tussocky slopes and traversing tussocky boggy ground to 238 and round Hesk Fell to 234 before slogging back up to its summit (233). From there we had a bit of a run down, before another climb up and a fun run down to a fence. Obsessed with not going out-of-bounds, I thought that we had to cross it at a marked point 1km away, so we took a long route to the penultimate control. [Yan, we could have crossed the fence since the crossing point was only advisory!] However, there was less climb than my original route – which others took and were significantly faster. Time was ticking by and, despite some gnarly contouring on steep bracken-covered slopes, I was confident that it would take little time for the final 2.5 km on tracks with 400m descent. And so it proved! We finished in 06:14 but this was much 50 minutes off 8th for the day, and even further behind the slower competitors of the previous day. So, with an overall 15:33, we were last by 75 minutes. As the only male veteran pair we could claim a victory of sorts, but the satisfaction was in finishing our first A course and, in Yan's case, his first ever mountain marathon. We were in time for the prize-giving which, after handing out awards for all the usual categories, degenerated into random distribution of goodies. I was thrown an MSR water filter as "someone on the A course who hasn't got a prize" and Yan received the same, later, for being "the oldest on the A course (who hasn't got a prize)" [Yan's a couple of months younger than me.] Thus my daughter and, maybe Yan's son, have water filters for their DofE expeditions. Yan and I will continue to drink from streams!
Analysis: with Yan's superior hill-running ability, ultra trail marathon experience and general "hardness", I'd have been worried about chasing his back for two days were I not the navigator. However, what we both learned is that if a pure runner does a mountain marathon, lack of experience of crossing trackless terrain will hit him or her hard. The ground speed on MMs is low: we took 15:33 for 65km and 2800m climb, and even the speed of the elite boys is much slower than that of a good hill runner replicating the same distance/climb on tracks. As for navigation, if the weather is clear it's easy but, in the cloud, years of orienteering and MM experience paid off. What I'd never considered until this weekend is that doing hundreds of orienteering courses translates into being relatively strong on pathless terrain. It also helps if you don't try to run a MM with a busted rib. I wouldn't have started: Yan, I'm so impressed that you finished!