I'd heard this long twenty eight and a half mile trail marathon was a tough route over the Cheviot hills in Northumberland. It's organized by Trail Outlaws who also run the St Cuthberts Way amongst quite a few other races, and they are really well organized with a very well marked route over the hills.
There were other Harriers going so I booked it as an extra on the back of some ultra training I had just finished. A bit too close together but I thought I'd get round fine if I taped up my creaky knees before the race which really helped. There's quite a lot of kit requirements which makes sense with it being well into November and very icy at the tops of the hills. Trail Outlaws had booked all of the Hostel where the race started and ended from which made it affordable to stay over before race day. There was also time to register if you were wanting to go on the day from 6:00 to 7:55 for the start at 8:00.
Wooler is just over the border so not too long a drive down and you actually run along the Scottish/English border on one section where the Pennine way joins the St Cuthbert's Way. Yan picked me up and we headed down the evening before the race to stay at the hostel. We had a few hours to pass by before turning in so we went for one pint in the local bar. I've never done this before a race before but Yan was quite up for it so thought one wouldn't hurt. With it being Saturday night the locals had clearly been out for a while and some were very merry.
The hostel beds were very good so I had a good sleep. We got up early and got our kit checked before getting our bib numbers and were all set. This was great as it was really busy later with so many people arriving on the day. It was a very frosty morning and we were warned about the icy conditions on the tops. The weather was brilliant for running though as it was a fantastic clear day with no wind. The half marathon which is held on the Saturday was quite windy but we were lucky on the Sunday.
Michael and Tracy arrived for Tracy running and we got a pre race photograph in front of the race banner. We set off at 8:00 and I kept to a 10 minute mile to save energy for later with it being such a hilly route. I had started far to quickly three weeks earlier at the Jedburgh Ultra and found the last 10 miles really hard. Everybody was in good spirits and it was great to chat to other runners as we ran over the various hills. The marshals at the check points were great and they had water, juice and sweets. CP2 was for emergency only so we had to fill up with water at check point 1 at about 6 miles as it would be CP3 at 18 miles before we could get more. As we got to the top of the hills there were large slabs as a walkway through the boggy ground. This kept us dry but was quite hard going on the legs as it went on for quite a way. Somebody told me they were from an old mill and they got helicoptered up. I was really surprised to hear of so many people doing this as a first marathon since it was so tough going. One guy had only run the Great North Run before and his longest run was 14 miles, I hope he managed round okay. The slabs were very icy in parts but as the organizers had gone round marking the route with little yellow flags they had put lots around the worst areas. It was totally fine though as the ice was easy to avoid. It was more going down the steep descents of the hills where the grass was very frosty that there was more likelihood of taking a tumble where I landed on my back once. I was taking it quite easy as I was worried about jarring my knees and putting myself out of training for the Highland Fling which I had to pull out of this year. Since the 50 mile Ochil Ultra in October I'd not had enough recovery time before doing the Jedburgh Ultra three weeks back, so knew I'd not have fresh legs for this but really enjoyed it anyway and I was sure I'd make it round fine. I'd never been up the Cheviots before so it was brilliant to see so much of them on such a fine day.
I was pleased to finally reach The Cheviot summit as I'd heard that was the hardest part of the race covered. There were quite a few smaller climbs here and there though which were great. Especially the eccentric older guy half way up one of the hills beating a drum and shouting out words of encouragement, "The spirits are with you!" We were then heading down into the valleys and CP3 where the marshals were very helpful and filled my water up. It was good hearing the Geordie accent too which made the race a bit different. Where the Pennine Way joins St Cuthbert's Way there was a great spooky wood section to go through. My legs were getting quite tired now with so many hills and boggy ground over large areas. I had plenty of jells and bars to keep me going though and I started counting down the miles as I got closer to the finish. I had no idea how long the race would take but was surprised how much longer it took compared to the Glencoe trail marathon, this was a far tougher route! I got scanned for my time at the finish and there was great soup and sandwiches in the hostel. The medal was brilliant and the T-shirt was great too in Harriers Purple!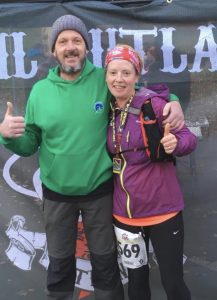 Everybody staying over on the Sunday night were taken out to the pub for a few free beers from Trail Outlaws. Yan and I left the bar at closing time and had a few drinks back at the hostel. Quite a finish to a great day on the hills.
I had taken a camera in my bag but it was too cold to stop and take it out so I've taken images from Michael Philip's Facebook page and others found on the Trail Outlaws page.
Yan Horsburgh: 5:27:32
Tracy Philip: 6:58:10
Mark Dawson: 7:21:43