A super turnout from the Harriers for a rather far flung race. It was a mild winters day with a hint of sunshine. Mud and streams to run through make this a quintessential cross country. Strava made it 3.9miles with 443ft ascent, so a pretty challenging route. Extra Kudos to Gillian for coming second in her category.
Junior results: https://www.webscorer.com/race?raceid=124639
Senior results: https://www.webscorer.com/race?raceid=124637
Juniors:
Lewis Cairns M10-11 Male 15:11
Calum Hind M10-11 Male 15:12
Duncan Hind M8-9 Male 19:50
Glen Dawson M8-9 Male 19:51
Seniors:
Michael Greens MS 30:21.7
Gillian Cairns F40+ 31:10.3
Allan Dunbar M40+ 31:20.1
Alasdair Hind M40+ 33:50.4
William Dickson M50+ 35:01.6
Ian Forrest M60+ 35:18.1
Charlie Crawford MS 36:22.3
Jan Dawson F40+ 36:53.4
Juliane Friedrich FS 37:13.3
Tracy Philp F40+ 38:16.4
Sadie Kemp F40+ 38:32.3
Gilly Marshall F40+ 38:33.6
Romana Gorjanc F40+ 46:47.9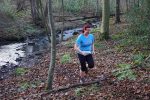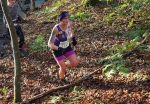 Thanks to Neil Turnbull and Sandra Vick for the action shots.