A shortened route due to the snow.
My Strava made it 7.6miles 2,290ft ascent.
We started at the Corby Lynne car park (not the field). The route was the same as usual until you got to the 3 Brethren (2nd checkpoint). You then headed down to join the drove road which took you over onto foulshiels. Then it was down to the 3rd checkpoint at the woods (and boardwalk). You turned to join the usual track back up foulshiels and the 4th checkpoint. Route was as normal after that, along foulshiels to Tibbies and then left down to the reservoir, returning by the same track to the finish. The route was well marked with yellow flags and arrows. There were plenty of marshalls ensuring no-one took a wrong turn and mountain rescue were there as well. Hats off to them for standing around in blizzard conditions so we could run.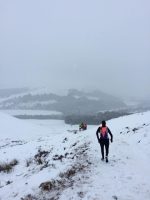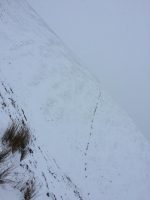 A really enjoyable run/hike/slide and I am so glad they shortened it and did not cancel. It was snowing during the race which made it a challenge to see where the path was. In parts the route was a channel in the snow which was knee deep in places. The track at the beginning and end was very icy so runners were cautious. We were all glad of the hot food back at the rugby club afterwards. Unfortunately Mike didn't finish the race due to injury. Congratulations to Gillian Cairns on her 1st FV40 place!
Results:
Pos. Runner Category Time %Winner
37 Michael Greens M 01:24:00 121.10%
46 Rob Wilson M40 01:27:31 126.20%
49 Gregor Gorjanc M 01:28:27 127.50%
59 Allan Dunbar M40 01:30:46 130.90%
60 Gillian Cairns F40 01:30:50 131.00%
124 Daniel Greens M 01:44:53 151.20%
125 Sadie Kemp F40 01:45:24 152.00%
126 Gilly Marshall F40 01:45:42 152.40%