I was thinking about running the London Marathon from the moment Susie and Julie shared their emotional memories about this special race with me after hill training. Since I loved my first marathon I decided to put my name in the hat for the club place and was lucky. As trade-off for this luck, we got a harsh winter, with a lot of snow, ice, more snow and dangerous traps covered under the snow…
Although I managed to stick to my training plan most of the time I felt less ready than for the Loch Ness marathon and after the 'manhole incident', I started to have aches almost everywhere from the hips downwards.
I felt much better closer to the race (thanks to my running buddies with their encouraging words and a nice walk in the Pentlands the weekend before) until I saw the weather forecast. Here's Juliane's Marathon tip (JMT) number 1: When you're training for a spring marathon, you should consider running on a treadmill… In a sauna….
My fellow club runners Raymond and Amy (ok, she is running in other club colours in reality but I definitely consider Amy as huge part of the Penicuik Harriers) were going to run London Marathon as well.
On the day before the marathon, it was hot and humid in London, but you could already sense the buzzing atmosphere that gives you goose bumps on race day. On top of that, everything was so well-organized!
I slept well, got up early, had my champions breakfast (1/2 dry bagel) and hopped on the bus. While I shared the bus primarily with people who were on their way to work, London Bridge train station was bursting with runners. Chatting to some of them and seeing all the happy and excited faces, the spirit of London Marathon started to take over.
In the start area, I tried to stay out of the sun if possible, drank more water and applied the tenth layer of sun cream. The procedure at the start had been changed this year: the runners were starting in waves and although I don't know how crowded the start was in the last years, I think this was a huge improvement. The start itself was a bit unreal: from one moment to another, the silence of nervous runners was replaced by the insane noise of spectators and event staff, which was going to follow us everywhere along the route until the finish line.
I felt so emotional during the first 3K: seeing the runners running for loved ones, the children waiting for high-fives (this might be the reason why I ended up doing 43.5k), the fancy dresses ('Beatles' playing 'Here comes the sun' while running and every runner around joining in) and one of my highlight was when I passed the firefighters (in full equipment!!!) running for victims of the Grenfell Tower fire. Another plus was that all the aches I had the weeks before the marathon had disappeared. So JMT number 2: my physiotherapist is a magician (or I do express a severe case of Maranoia).
After 3k, I saw the first collapsed runner and this was the moment when I realized the brutal heat. Seeing more and more runners in distress the next miles, I allowed myself to slow down yet I still started to struggle from around 10k onwards. I just couldn't imagine running in the heat for so long… The water stations were quite frequent, there were six showers along the route (how stupid I was making jokes about them in the winter!), and several fire hoses were in use. Also, members of St. John Ambulance were present everywhere doing an amazing job and spectators were handing out water and fruits. Seeing everyone working so hard for our well-being made it feel save to continue running.
Although running in this heat was not pleasant, I still could appreciate the marathon. It was a giant party in the centre of London along the famous landmarks, with people having BBQs, bands playing weather-appropriate songs ('Gimme shelter' was my favourite, has anyone ever tried dancing while running?) and, at the risk that I repeat myself, the crowds cheer you on as if you are a star or a kind of superhero. The moment I remembered the most was crossing the Tower Bridge, people went absolutely crazy, just wow!!! And then you have these little moments of kindness with other runners: I had a lovely wee chat with a Scottish guy whose daughter was born in Edinburgh Castle, we helped each other with water and applauded the extraordinary runners (I was especially impressed by the visually impaired runners). It's also funny how memories stick in your head when you suffer: I'm still thinking about the pink Gin Tonic (that's at least what it was in my imagination) in an ice-cooled carafe I saw in a woman's hand and the taste of oranges! Here's what I've learned next (JMT 3): Never ever have gels with Mojito flavour, even if it's warm. Absolutely never!
While I was craving for all these things somewhere in the middle field of runners, the amazing Amy and the brilliant Raymond were in a heated head-to-head race far ahead of me. Thinking about running that fast in these conditions makes me feel slightly uncomfortable 😉
Luckily, Amy, Raymond and I finished save (and more or less sound) with 03:47:50, 03:48:59 and 04:26:44. While Raymond was enjoying his well-deserved reception with the MS Society, I was so happy to see Christian again and to catch up with Amy at the "P" (for Penicuik 😉 ).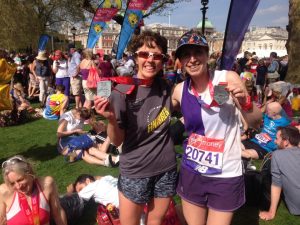 Another amazing thing about London Marathon: it doesn't end at the finish line. I had to catch my plane to Germany on the same evening, and no matter where I went (train station, tram, airport) people started to applaud and congratulate me, I guess I scared some of the children because I was so touched that I started to cry.
Despite all the suffering I'm grateful for this experience. The London Marathon left a profound impression about what the body can endure and foremost about how special the running community is. Finally, everything is put into perspective when one of us didn't return from this race and thousands #FinishForMatt instead.
Juliane