Glen Ogle 33 is an Ultra marathon that sets off from the McLaren Hall in Killin. It's roughly 33 miles in a figure of eight through beautiful forest trails and cycle tracks. There's a long switchback section in the centre as the route passes far above the A85 and A84 down towards Lochearnhead with great views over to Loch Earn. It then heads down to Balquhider next to Loch Voil, and then onto the 'Shoogily bridge' crossing before Strathyre.
The main reason for wanting to run this race was the spectacular railway viaduct which I've often looked across to when passing on many a trip up north on the A85. You run across this on the way down and again on the way back, so sounded fantastic. The race is run by BAM Racing who organise the race brilliantly. There's a pre race briefing and a fantastic group of marshals along the route as you pass various check points. The route is marked really well so there's no need to worry about navigation. It's a great race to do for anybody who is thinking of running their first ultra, as it's about six and a half miles over marathon distance and not too hilly or too flat. There's a few road crossings but they are well marshalled. I'm very glad I took road shoes as there's a lot of tarmac on the mountain bike trail sections and the forest tracks were not slippery enough to need trail shoes. The cushioning of the road shoes were greatly appreciated as there was far more tarmac than I had trained for. All my training had been for the Lakes in a Day race three weeks earlier, which is mostly on the mountains and then trails.
Alan Thornburrow offered me a lift early on the morning of the race which was great. We set off at 5:15 which gave us plenty of time to get there on quiet roads at that time of the morning. We were at registration for about 7:00 where we met Gilly. You can register on the evening before the race but if you register on race morning you have to be registered by 7:30. There's a very informal race briefing in the hall at 7:45. The main information from BAM Racing to runners was how to not be 'fannies'. We all then headed out to the Main Road where a very loud horn was blasted and that was that. I had my watch all ready for starting at the start line, but there wasn't one, so just set off down the village streets, then over the bridge next to the famous Falls of Dochart. The forecast was right with it chucking it down with rain all day. This made the falls the most spectacular I've seen them as the river was very high.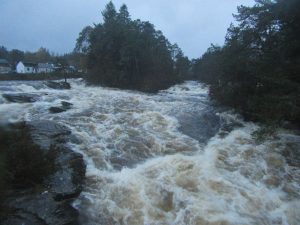 I was well covered for the elements so didn't let the rain bother me. There was high winds forecast but with the race being in the glens it wasn't bad. As we came to the first ascent of the many hilly forest trails I realised my legs were still not recovered from the Lakes in a Day 50 mile Ultra three weeks ago, and the Scafell Pike trek a week later. I still thought though, if I could just push on as best as I could till at least half way it would give me a chance of an okay time, even if I slowed towards the end. Storm Callum had decimated any course times I had in mind for Lakes in a Day, with heavy rain, high winds and flooding. I hoped to still have a proper run today. As I cracked on up the very hilly first 4 miles or so of forest trail I thought I could hear Gilly and Alan talking behind me. I thought if I keep on like this it'll be great as I'd be pleased with their pace but I didn't have the breath for too much of a chat on the up hills. It was a shame to be missing the brilliant views on such a rainy misty day but could still see some fantastic scenery here and there.
After quite a push to the top of the forest trails we had a really fast downhill section which zig zagged down on hard tarmac. I had a good run down here which was possibly a bad idea as it wasn't long after my legs were not too pleased about anything steep. By around 11 miles or so I realised I was going to have to make do with just getting through the race as my legs didn't have too much in them. I was still enjoying the route though and I was really chuffed to be running across the railway viaduct. The views were amazing as I looked over the glen from the opposite side from normal, down towards the road I usually look up at it from. The background hills were very dramatic with numerous waterfalls after all the rain we had had. There was so much, I had to keep holding my mitts upwards to tip the water out of them! Even in this rain it was not too slippery in road shoes. I kept skipping between the gravel sections of the trail to the central grassy area when it wasn't too slippery, looking to lesson the impact of the hard ground.
I passed a couple of check points before crossing the highly acclaimed 'Shoogily bridge'. It did wobble, but not quite as much as I was expecting. I was then into the Strathyre checkpoint where you 'Dib your Dobber' (putting your timer chip into the devise that records your time). You only have to do this twice. Once here for your split time and then at the end. I had packed my vest backpack to avoid having to stop for a drop bag. I thought the 2 litres in my bladder pack would be fine to get me round, and if not I'd get some more at the last water station. In the front pockets of the vest I had my phone along with 5 jells, 2 Power bars, some peanuts for getting some salt and 5 small Snickers. This worked out great and although my legs were trashed I had enough provisions to keep me going. From here it was just trying to keep moving and not end up walking. I was getting passed by so many runners now, but I was fine as I knew I'd normally do much better. I just hadn't had enough recovery time after 21 hours 26 minutes running in the quite brutal conditions of Lakes in a Day (Race report up for this too).
I got speaking to a few people on my way which was good as I shuffled along trying to keep my legs going. My left hamstring felt like it was going to twang so I stopped a few times to stretch it and my right one felt really stiff too. The tarmac was making my uncles really battered, but generally I knew I just had to keep going and I'd be fine. It was brilliant to be going back over the viaduct and the views were still great. It was a pity though how we were missing all the autumn colours under so much mist in the rain. I kept on counting down the miles and eventually I was managing a slow jog through Killin on my way to the finish line in the park. The locals were all very supportive and cheered me on as I passed. Earlier a family was passing and their young son gave me a high five. It was funny how much of a splat my saturated mitt made as hands were slapped. Finally I was at the park and the finish line looked so far away, with the route taking me round the full race track. I eventually got there and again 'dibbed my dobber'.
I walked back to the hall (just a few steps from the park), and met up with Alan and Gilly. We got our photographs taken just on our phones. This was the 1st time they had been out as it was so wet on the course. The medal and T-shirt are a great design, so are a brilliant memento of the race. It was a shame I wasn't staying for the ceilidh as it was really good a couple of years back when Jan ran the race. I bought some coffee and cake which were great. The profits go to cancer research. Gilly and Alan had had a good race and we had a chat about the various sections before Alan I drove back down the road. I was home for 5:15 which was fantastic, being up and back within 12 hours.
Gilly Marshall: 6:01:18
Alan Thornburrow: 6:10:40
Mark Dawson: 6:41:41