The Scottish Mountain Marathon has taken the place of the previous orienteering marathon run by LAMM (Lowe Alpine Mountain Marathon). After looking into all the kit requirements for this race I was not going to take part, as you need a tent that's super light and packs down small, which are around £400! I'd never manage to get my bulky Vango two man tent into a small rucksack, although it is great for general camping. However Julian Hall had one and agreed to join up with me on this two person team event. We were an unlikely match as a team as Julian is a much faster runner than myself. We however agreed to go for it as Julian wasn't sure of having an injury over the training period. It turned out Julian turned his ankle very badly up the Pentlands just over a month before the race and was unsure if he could take part. Thankfully with Tim Doyle's help he was cautiously match fit for the day. With this in mind we switched from the B course down to the easier C course.
Julian came round a few days before the race to go over kit packing as mountain marathons need you to keep your backpack weight right down as you're running with all your camping kit as well as food and a stove etc. It was great Julian had a smaller one season sleeping bag I could borrow too. Again mine was too bulky.
My navigation is okay when the mist isn't down, but I knew I'd have trouble without a GPS if the weather was bad with little visibility. GPS's and smart phones are banned from the race as it's all about self navigation. Julian has run many such events, and so I thought we'd be fine even if the weather did turn. The forecast was for terrible weather and I was a bit fed up as the last five races I've done have been in heavy rain, and even in storm Callum for Lakes in a Day last October!
Rob Wilson was also running with a work friend called Tim Kinnaird who hadn't done any hill races, but was a fast road runner. They were also running the C course. This made for great car sharing up to Torridon for the race. Julian picked me up at 1.45 and met up with Rob and Tim in Perth, where Rob drove us up from there. We stopped of for a meal on the way up, but had breakfast booked for the morning before the race which was great. We got up there for 8:00 and registered. I picked up my pre ordered T-Shirt which was an extra cost to the race price.
We got our tents up and had a beer in the main tent before heading to bed. I didn't get much sleep but was fine in the morning for the race. After an age of faffing around I finally got my pack sorted out with plenty of time before the start times of between 8:00 and 10:00 (This was an open period where you could start any time between then). I got quite a slagging off for how much I had packed, as mountain marathon runners pack down to next to nothing to keep weight to a minimum. I had taken a tooth brush and some plasters which was seen as an outrageous thing to pack for weight 🙂 Very amusing but I wasn't going without brushing my teeth over the 2 day race. I had also packed a thin puffer jacket which is very light and packs down to nothing. More than on the kit requirements but I'd like to have it if I had an injury up there. It turned out to be great as both nights got really cold in the tent.
We were very lucky with the weather in the end! It was lashing down back in Penicuik but sunny up in the Attadale Forest in the south of the Torridon area. We set off at 8:45 and my back pack with the tent, sleeping bag, food and other kit did feel quite hard to get used to for the first mile, but I was fine after that. I was however feeling quite dehydrated as we headed up the steep hills in the sun. I finished off all the water I had in my bottle and filled it up right away from a small stream. We knew this would work fine as there had been a lot of rain and the rivers were really swollen. It was great that Julian's ankle wasn't causing him any trouble and he led the way with his brilliant navigation skills. Even with Julian being injured he was still quite a bit faster. We all had dibbers to put into devises that bleeped and tagged you as completing that point. There were 8 on Saturday and 7 on Sunday to get round. The highest hill of the day was a Graham called Creag Dhubh Mhor at the 5th point. A bit further on we stopped very briefly to get a few snacks out of our backpacks for lunch, and I also regularly grabbed an energy bar etc. along the way too keep me going (Julian didn't need much himself). The views were fantastic with perfect visibility. We could see the Munros up to the north and even over to the Cuillin in Skye. By the time we got in to the finish line I was quite knackered but with nothing sore which was brilliant.
We quickly got the tent up as we could see rain clouds quickly coming our way. By the time it was up it was bucketing down. We were so relieved we weren't still out there. We had however to wait quite a while till we could cook our dinner after it had all passed. Rob and Tim had been back for quite a while before us, so had plenty of chilling out time at the camp site. We got in at around 2:00, so there was ages to kill before going to bed! Rob and a Swedish team were neck and neck throughout the day and they had camped right next to us, so there was some friendly banter between the two teams over the afternoon. The Swedes were having a great time and it was good to listen to their language as we sat in our tent away from the rain. Julian could have a sleep instantly wherever he lay down but I couldn't, but still had a good rest while the rain battered down. It finally cleared and we all went for a short walk along the trail to ease out our legs for tomorrows run. We had an early night and I got a much better nights sleep. As well as Saturday, we also had the piper to wake us up at 6:00 which was really great to start off the day. There was a lot of clapping from around the dozens of tents when he / she had stopped. We got up quite quickly and I had some porridge which involved just poring boiling water into a tub and waiting one minute. Our dinner from the previous night was pot noodles as this was also a quick meal with carbs that was also just adding water. I had thought of pasta but that's a lot of boiling time as Julian had pointed out earlier, as we wanted a small tin of gas to pack.
There wasn't too much to do in the morning as I had slept in my Sunday set of running gear and we set off at 8:00. We headed right up a very steep hill and we were then on our way up a Corbett called Beinn Dronaig. I was very pleased to have something to tick off in my Corbett book. The views were fantastic from there, and there was a lot of runners taking a break there. We dibbed our timers in the machine at the top and were on our way to the next point. When we got there, there was a runner that had a drone buzzing around everywhere and he was standing in the way of the check point, which meant we missed it to start with, but Julian was quickly on it. Another couple of runners had missed it for this reason but had gone much further down the slope.
There were quite a few more steep hills here and there, but there was one check point where people were really finding it hard to find as it was around a few lochans. They had missed the contour lines showing it was a bit higher up from right down next to the lochan. It was quite tough going towards the last check point as I realised I had only had a couple of energy bars since breakfast. I was starting to feel quite burnt out without being able to get into my backpack for another jell or energy bar while running. We were however very close to the end and we headed down towards the finish line. We had a bit of a dash to beat another team before finishing. Rob and Tim were waving us on from their tent as they saw us approaching.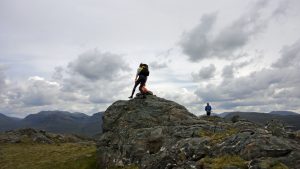 Again the rain was about to come in quite quickly after being so great over our running time. There was a bit of a rush to get my tent down which we had left there from Friday night, before it got wet. We just made it and got back into our normal clothes before it started bucketing down again! We went back to the main tent and had our very hearty free after race meal. There wasn't any cups for the coffees and I had left my collapsible camping one in the car after changing, so I had a beer which was brilliant!
Rob and Tim had a very fast race coming 6th after a mad chase with a Swedish team throughout all of the day. Unfortunately they couldn't quite catch them over the last stretch.
If you want to see a lot of an area you'd like to visit in a very short time, a mountain marathon is fantastic to take part in. You just have to invest in or borrow much lighter, smaller kit than normally needed, and have some navigational knowledge. Things would be quite tricky if the mist came down and landmarks were not so easy to see.
Rob and Tim's times:
Saturday 03:51:57
Sunday 03:57:03
Total 07:49:00
Myself and Julian times:
Saturday 05:16:58
Sunday 05:44:48
Total 11:01:46
Also our veteran handicap time reduced to 10:02:12