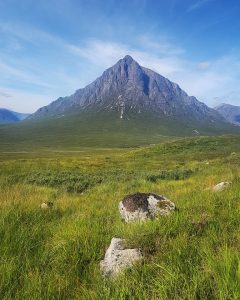 A 42 mile trail ultramarathon along the upper section of the West Highland Way from Tyndrum to Fort William, the Devil seems to have a very good rep amongst the ultra community and is possibly one of the best races in Scotland in terms of scenery (weather depending…)
This year there were two Harriers running, Jan (aiming to complete the mythical Triple Crown of West Highland Way ultras!) and myself, as well as Juliane who was once again doing brilliant work supporting (and also running up Ben Nevis https://bennevis.co.uk early in the morning!).  Gilly and Yan were there too volunteering as part of the race day team, putting in a longer shift than any of the runners so a big thank you to them and all the other people who helped organise a very well run event.
I arrived the evening before the race for registration at the Tyndrum Inn, which was delayed a bit due to a road closure, so there was nothing for it but to have a (non-alcoholic) beer while waiting.  Jan and Juliane stopped off on their way to Fort William and had some very tasty looking cake.  I was staying in Tyndrum at Pine Trees campsite, where I had booked a "Hiker Hut".  This seemed like a good option as it would be a little bit more comfortable than camping while still being pretty cheap, but as it had been another hot day the inside of the hut, lacking ventilation, had become like a sauna!  I tried to let some cool(er) air in before going to bed and did manage to get a reasonable amount of sleep in the end.
Getting up at 4am, the weather seemed a good bit fresher and there was plenty of cloud around which was quite welcome.  After forcing down as much breakfast as I could manage and sorting out drop bags, it was time to head for the start before I knew it.  A cheery crowd of just over 400 runners had gathered at the Green Welly Stop, and as 6am approached we were walked over to the starting arch.  The race begins with a steady uphill for a mile and a half (because of course it does…) before settling in to an enjoyable gentle descent towards the first checkpoint at Bridge of Orchy after 7 miles.  I was aiming to stick to a comfortable pace, conserving as much energy as possible and just focusing on how I was feeling rather than how fast I was going.  This was working well early on and I found myself amongst the chasing pack of four runners who were well behind the leader but a good bit ahead of everyone else.
The climb out of Bridge of Orchy over Mam Carraigh (Jelly Baby Hill) took its toll and I was able to pass a couple of runners who had slowed up, before racing down the long steep descent (hill training sessions really starting to pay off!) and suddenly finding myself in second place.  From here, it was a long plod across Rannoch Moor to the next checkpoint at Glencoe, but the clouds cleared occasionally revealing some spectacular views of hills and lochs.  Heading into the Mountain Resort car park, it was clear that the midges were out in force as everyone was fully covered and sporting nets over their faces, so any thoughts of stopping for a breather at this checkpoint quickly went out the window!
I dropped back into third at this point, but still felt good and upbeat and I was able to keep pace with the runner ahead of me, so I followed him all the way to the top of the Devil's Staircase.  This part of the route is a bit notorious, mainly because of its evocative name I think, and it certainly is a heck of a climb but I didn't actually think it was all that bad in the end (there were far tougher things to come…).  The clouds were starting to clear and the sun was raising the temperature, but there was quite a cool breeze on the way up, and slowing down to walking pace for a while was quite beneficial.  We were greeted at the summit by the Devil herself, offering jelly babies, and the best view of the day, looking down on an enormous drop all the way to Kinlochleven and the next checkpoint.  Once again, I was able to race away on the downhill, reclaiming second and opening up a five minute gap.
And then it started to get a lot harder…  The next section was the biggest climb of the race, over 1000ft of ascent up across the Lairig Mor to Lundavra, and the sun was now out in full force with hardly any breeze in the more sheltered parts of the valley.  The "feels-like" temperature eventually passed 30°C and staying hydrated became my biggest priority as I started getting sluggish and my positive attitude had to switch to a determined one.  I took a tumble at one point and got a few scratches and bruises from the rocky path but kept running slowly up to the final checkpoint at mile 35.
Only 7 miles to go, hardly anything compared to what had already been done.  And yet this was where I came very close to a full meltdown and thought my race might be over.  The heat was relentless and the path became very undulating, making it impossible to get any kind of rhythm going.  I was now walking most of the time, had dropped back into third place and was convinced I would soon be passed again by several more runners.  It felt like there was no way I'd be able to start running again properly, and the thought of having to walk all the way to the finish filled me with dread.  Having done a few ultras now, I've found that it's pretty common for rough patches to happen after mile 30, but if you can push through them things seem to get a lot easier again from about mile 40 onwards ("thirties are the worsties").  I tried to cling on to this hope, and after having a piece of watermelon at the secret fruit bar (shh… it's secret) and starting on a nice long downhill I got my mojo back and was running again.  One final hill before the end wasn't particularly welcome, but it was close enough now so I ground it out and crossed the finishing line where there was a party atmosphere and loads of support!
I had managed to hold on to third place (the heat was having the same negative effect on everybody else) and when Jan came home we found out that, in addition to wrapping up her Triple Crown, she was second FV40 and third FV overall!  So it was a very successful day for Penicuik, punching above our weight yet again and showing everybody that we fear no hills!
Results:
3rd Adam Gray 06:18:45
63rd Jan Dawson 08:23:18 (2nd FV40; 3rd FV O/A)
Full results: http://www.kitst.co.uk/devil-of-the-highlands-2019.html