Ever since running the longer ultras I've been keen to use the ITRA points for a UTMB race. I've done a few that are 4 points each, and to enter the UTMB Mont Blanc CCC race you needed 8 points within 2 races only (Now changed to 6 points for the CCC). The various UTMB races are quite hard to get into as they are over subscribed each year, and I read it can take 2 knock backs till you get in on the 3rd attempt. With this in mind I applied and didn't think much more of it. Months later I got an email saying I was in first time! This was brilliant, but I hadn't looked into any of the technicalities of where the race starts, accommodation and travel etc. A couple of days passed till I could get onto this because of work deadlines. After this though, all the affordable accommodation had gone with hotels going for £200+ per night. I thought I can just camp somewhere. Unfortunately the 3 campsites there do not take booking and say you should get there early. This was a worry as I knew I'd be there late afternoon. I did however get a place late in the day which was very lucky. He could tell I'd walked with all my kit, so wanted to find somewhere for me if possible. I was quite prepared to wild camp in the woods and so had taken all my old kit for camping in case it got taken away or trashed. There was however a very noisy motorway very close to my tent, so I didn't get much sleep.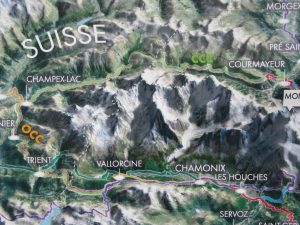 There's a big kit requirement needed for the race and this even covers a cold and hot weather extra kit option which they let you know about a day or two before the race. Thankfully it was the normal kit as my 12 litre pack was not going to work if a cold weather version was needed too, and was going to be very heavy.
I got an Easy Jet flight to Geneva and thought previously I could just hop on a train to Chamonix. With time limits and the change of trains needed to do this I went for booking a taxi minibus which I shared with about another 7 people from the airport. I booked this a month or so before the race. This was great as I got there about 18:00, and I still needed to get my kit checked over at the sports centre and then get my bib number and bag for taking to the start at Courmayeur in Italy. This is for putting the kit I wanted at the end of the race back in Chamonix in. Registration finishes at 20:00 so time was an issue, thankfully the flight was on time.
I was then off to find wherever this camp site was from the map I printed out online. I found it after having to switch back a bit and it was a bit of a walk from the centre, so my legs were getting tired after lugging a full 80 litre rucksack and a second big bag holding all my running kit with the extra set needed for kit requirements. By the time I got the tent up and sorted everything out, it was too late to walk back into Chamonix to get dinner, so made do with a few snacks.
I set the alarm very early and headed down to the pick up point in Chamonix for the bus at 6:15 to Courmayeur on the Italian side. The trip went very quickly and we went to the sports centre there for a while, before walking up to the bag drop off, and then the starting area. There was a very lively fun atmosphere with lots of music and dancing going on in front of the start line. It looked great and the weather was perfect, if not a bit hot. We all got livened up by the DJ and then we set off in sets of our bib numbers. The start is at 1,200 metres.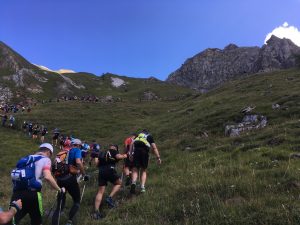 After running just a few hundred yards my legs felt tired from lugging about all my luggage till the evening the night before. Later it felt like I was running on empty with no dinner the previous night, and just a few cereal bars for breakfast. Normally I have porridge before a long run. We were out of Courmayeur in no time with it being very small. We then hit a bottle neck as we came to our first very steep mountain. I thought there may have been an accident as we were not moving at all for ages. This was a concern for cut off times and hoped it was factored into timing when I realised it was just a normal hold up. As we got half way up and still moving at a snails pace because of it still being held up, it was great to look back at the views. We were so lucky to get such brilliant weather. The mountains looked breath taking! I knew last years race had very bad weather. We eventually really slowly got to the top of this zig zag trail up Tele de la Tronche, which is over 2,500 metres, and then at last we started to space out.
The views were spectacular and I asked another runner who had stopped to look at the view if he could take a picture. I had had my camera out quite a bit and as quickly as possible was trying to take some pictures as I went. I realised I was flagging back quite a bit and when I got to the first check point and had refilled my bladder pack and had some food there, I was really far behind. The marshals were really friendly and a woman asked if I would like some soup and suggested I sit down. It was really great and perked me up a bit. I then set off with a heavy full 2 litre water pack but knew I'd need it in the heat.
The views really started to just get better and better as I looked onto the massive cliffs and buttresses of Mont Blanc with huge glaciers skirting their tops. I thought I must be really far back but started to catch up a bit. We then got into the 2nd food station which was quite large and lively. I saw some cut orange slices and went right for them. They were totally delicious! I then had lots of salami for protein and some bread and cheese. I had a few sweet chocolate nibbles too, but I wasn't in need of them so much at that point. I was sure the race details said there'd be jells at the food stations, but there wasn't. I had only taken 4 with this in mind. I asked one of the marshal guys about this and he said in a great French accent "No jells….. Jells are crap! We have this." I agreed their food looked great and tucked in. The marshals were super helpful and friendly.
We then got a call that the food station would be closing in half an hour, so I dashed out realising I needed to make up some time. After some proper food now, I started to feel much better and was back in the race again, but still had quite a bit of catching up to do. Everybody we passed would cheer "Allez, allez, vite, vite!!!" or "Bravo, bravo!!!" as we passed which livened up the run.
There was now another massive steep mountain to get up called Grand Col Ferret which is 2,537 metres. I really didn't mind the steep mountain climbs as I was enjoying the race in such an epic place. The top was magnificent, so I had to get a picture! We were now leaving Italy and entering Switzerland. My water was running out so I knew I'd need to fill up at the next station. When I got there though, the water supply was hopeless. There was a garden hose gun that was not working properly and there was a bit of a back log of runners waiting. The marshals were all drinking red wine and not very helpful about this problem. I eventually got my pack full again and headed off. There was a herd of cows in the fields below and they all had huge bells which were clattering and making quite some noise. Poor things have to hear that their hole lives. It was however very Swiss.
I knew I had stopped to take too many pictures but I thought I could make it up over the night running where I would obviously not be tempted. I dashed down the mountain to the next food station at La Fouly which was the most beautiful valley with a huge glacier between two mountains and massive waterfalls gushing from each side of it. Not only that, it was dusk now, so there was a pink sky behind where the sun had just gone down! I managed to resist getting my camera out. The food station was quite big and again very lively. There were a lot of runners lying around sleeping and others in no rush to leave at all. I had quite a bit to eat here as it was around 20:00. I got my head torch on and headed off. I was quite pleased with my Alpkit head torch which totally did the job. However the majority of runners had torches that light up the entire area. This resulted in me running in my own shadow when they were behind me! I'm not into night running much but was fine getting through the course now. We had dropped down quite a bit to around 1,000 metres. Now there was another uphill to get to the next food station which was quite small but very friendly as usual. I got more water and some flat coke and headed out after putting a few of the small squares of energy bar that they had at the food stations, into a bag for eating on the go. This had a peppery after taste and was really good to take away from being too sweet tasting. The dark chocolate went down well too on the trail. In the dark I heard more clanging of bells and run very close past herds of cows here and there on the way.
We now had some big climbs to do. The run up to La Glele which is over 2,000 metres took some time and I started to get quite worried about the cut offs. There was however lots of people either crouched down looking like they had given up, or actually flat out sleeping all around the mountain from here on in. I started to overtake quite a lot of runners now and got to the top eventually. There was just a couple of marshals here to scan the bib numbers, as there were on the peeks of all the mountains. I knew I had to pick up the pace if I was to make the next check point in time. The trail was very steep, rocky and covered in tree roots as many were. I did however manage to get a bit quicker down than expected. My head torch was going dim, so had to waste a few minutes getting the new batteries out of my back pack. Everything was stuffed in so tightly that it was quite hard to get things without dragging lots out. My knees were a bit sore from going faster down hill to about 1,300m or so, so I took 2 paracetamol.
The next mountain, Les Tseppes is about 2,100m and took forever to get up. I'd be running along fine and at various stages realised I couldn't see anything down to the side of the thin trail we were on, so a huge drop down. At one point there are chains to hold onto to stop you going over the edge. There were a lot of runners again sleeping on this mountain, I was quite worried for them as they would get cold once they had stopped. Then I came across a metal railing bridge clamped to the edge of the cliff to run over. It felt quite secure but knew it was very exposed. It was possibly good it was so dark that I couldn't see those drops. About half way down this mountain we entered France. I was now sure I would be timed out when I eventually got to the top and started heading down to the check point. There was a very chilled out marshal woman at the desk. I asked her how much time was left at this check point and I was very pleased to hear her say in again a great French accent "You are okay, you have half an hour". I got a full top up of water again, adding the High 5 Zero tablets and also had a rehydration salt as I was very hot, even though I had been running at night. At every station and anywhere there was water I'd dip my head in it or pore water over my head just to cool down, it felt brilliant and cooled me down nicely.
When I was running down to this check point I was pleased to see dawn was breaking and it had quickly become a beautiful morning again when I left to head up the last big mountain called Tele aux Vents. The views were spectacular again. I passed another guy that was asleep during the day here as we headed up another very steep trail and clambered up over rocks. I didn't find this hard going though, which I thought was very strange after my legs being so tired at the beginning of the race. My legs felt totally fine and was pleased I had done so many Pentland hill repeats over the past two months, and also long runs on holiday in Exmoor National Park. I had told myself there was no time left for any pictures, but the views up here were stunning. I quickly took about 5 pictures along this stretch and then rushed down to the next check point which looked like it would normally be a ski centre. It took ages to get there but at least I had enough water already, and I could just grab a few sweets and rush through. I thought we'd be okay now but I had been running down this last mountain for a couple of kms when a guy said "Just 7 kms to go". This made me go faster as I knew it took 2 hours to get down a tricky mountain last night which was roughly the same trail conditions as this, and I only had an hour and a half to be through the finish line in Chamonix.
I started passing a lot of runners who had started to take it easy on this stretch after so many trekkers were saying "Well done, almost there!" I kept on looking down the mountain through the trees to Chamonix, and it still looked Ike we were a mile in the sky! With this I rushed down as fast as possible and said "Merci" to the huge amount of well wishers who were congratulating us. I don't think they realised though that it really was quite a way still to the finish line. This last 7kms went on for ages. I looked up to say "Merci" to a well wisher and almost went flying as I tripped on a tree root. I then felt quite unfriendly not looking up when others cheered "Allez, allez, vite, vite" or "Bravo, bravo!", but I still said "Merci", but looking at the trail.
At last I was at the bottom of the mountain and we had to go over the main road on a temporary metal bridge which was great. Now on the home stretch through the woods to the town centre, and finally down the High Street. I knew now I'd be okay as there was about half an hour to go. The crowds were incredible and so friendly and enthusiastic as they cheered us in clapping. I had made it through in time at 11:40, when 12:00 was the cut off time of day! Although with being in the last batch of runners through the start I'm not sure if I'd have an extra 20 minutes to make up that time standing waiting to start. Anyway, 12:00 was the official end time and the time to finish within to be sure.
There were photographers at the finish line, as there were throughout the daytime running part of the course. I strangely felt totally awake after 26 hours and 5 minutes of running. I went through to pick up my finishers Gilet which had CCC next to Finisher. The full UTMB and TDS course ones had their race printed on too. The lesser mileage races got a medal.
I got a technical T-shirt when I picked up my bib number, but I also wanted a cotton one, so I headed over to a stall to buy one as they looked great, and were the ones all the marshals were wearing. The two woman there were very helpful and showed me where to get a free finishers beer, and also where the finishers free dinner was. The beer was very small but great anyway. Jan called me when I was there and told me she had been tracking me throughout the race along with a few Harrier friends and my brother. I didn't know this was active without paying for it, as it sounded that way in the email sent the previous week. It had been just as worrying for them seeing me so close to the cut offs at a couple of stages than it was for me! It was great to talk a bit about how things had gone and I was in very good spirits and not at all tired as I cheered other runners in.
I then found the restaurant where the free meal was and had a fantastic proper restaurant self service eat what you like large lunch. It was fantastic! The man across the table from me was French and had ran all the UTMB courses. He now helped with the organisation. I knew the trackers told race HQ where we were, but they also keep an eye on your speed. If you dramatically slow down it shows them you may be in trouble.
I then got a shower at the sports centre and changed into the clothes I had put in my drop bag that I had left in Italy for taking to the finish. I felt a lot better and headed back to the camp site where I slept from mid afternoon, all through the night till about 8:00am on Sunday. I then packed up and went down to Chamonix to cheer on the UTMB runners for around 2 hours before getting the return trip back to Geneva in the taxi minibus I had hired.
Even when I was slowing down and dropping back at the start I was still so pleased to have such weather to be running in such a beautiful place. Mont Blanc is stunning from so many angles. It makes our Munros look so small. It was great that the food stations were so good and I got some energy to keep on going, and finally got back into the race.
It was a great adventure and so well organised.