2 relay teams and 8 solo runners took on this year's Jedburgh 3 Peaks ultra and relay. Conditions were brilliant weather-wise, if a little muddy underfoot!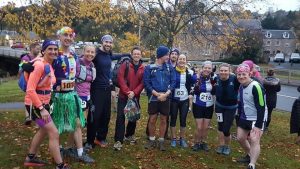 As ever, the race was full of well-kent faces, both runners and marshals alike. We set off after a YMCA warm-up, with all relay teams in compulsory fancy dress, and there was the usual detour over the children's play park at Bowden. This was perhaps inadvisable in the conditions though and poor Susie took a tumble on the wooden bridge! But like a true harrier, she pushed on to finish with a smile on her face.
The relay runners did us proud, with the men's team fighting hard for 2nd place over all. They looked very pretty too! The Peni-pandas, cosy in their hand-knittted panda hats, claimed 4th combined team. Penicuik always do well in the relay and 2019 was no exception. Well done all!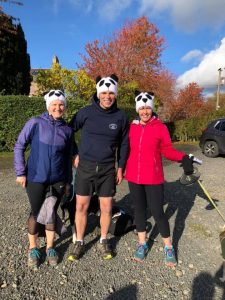 I just love this race. It's a blast from start to finish. Make no mistake though, it's a tough course with a lot of tree roots, boardwalks, steps, mud and rocks to negotiate, plus the small matter of the three Eildons 17 miles in! I felt really good this year though and gave it everything I had to get as close to my target of 6.5 hours as possible. Less time faffing about at checkpoints also helped! Except CP3, I had a wee go on the swing there. It would've been rude not to!
Results:
Peni-panthers: 04:52:27 (2nd place and 2nd male team)
Peni-pandas: 06:47:34 (10th place and 4th combined team)
Jan Dawson: 6:31:36 (3rd female)
Sadie Kemp: 07:08:13
Yan Horsburgh: 07:22:33
Tim Doyle: 07:59:05
Tracy Philp: 07:59:06 (and 02:01:09 in the half marathon the next day!)
Gilly Marshall: 08:40:46
Susie Maxwell: 08:40:46
Chris Burns: 10:27:59
Ultra results here: http://www.kitst.co.uk/jedburgh-ultra-2019-runners.html
Relay results here: http://www.kitst.co.uk/jedburgh-ultra-2019-teams.html