St Cuthbert's Way Ultra Marathon 100km from Melrose to Holy Island
Time: 19 hours 24 minutes and 55 seconds
Ascent 8,067 feet.
I was more than a little worried about completing this race after missing four weeks of training because of a broken rib on the Cuillin Ridge in Skye shortly before the race. This just left me one training week to get back into a little running.
The race starts in Melrose at 0:30 on Saturday morning. Jan gave me a lift down to the start area and I handed in my two drop bags and finish bag. One for Morebattle at 25 miles, Wooler at 45 miles, and a change of clothes for the end at Holy Island at 63 miles or so. It was quite warm even at midnight, but I did put my jacket on just before the race as I thought it would be colder shortly after when we headed up through the Eildon hills.
There was just a short race briefing before heading off. St Cuthbert's way is well signed on the most part, but there were areas that were not obvious, especially in the dark. I had taken a GPS and uploaded the course on OS Maps on my phone, but didn't want to use that too much as the battery wouldn't last. A few miles in I had to check the route for St Boswells Golf Course, quite a few runners were going up and down the streets looking for the right turning. A quick check and I was back on track.
Right after running through the golf course we were into very thin tracks in the dark next to the river. Tree routes and overhanging branches at night were quite a hazard. I had my first face plant around here, flying through the air after tripping on something. My head torch was quite good but not enough to light up more that what was directly in front of me. The trails were rough in parts, so easy to not see stones or tree routes in the dark as long grass overhung the thin trail in sections. I think most runners were having the same issue and there were quite a few bashed legs.
I had tried to get a couple of hours sleep during the afternoon before the race, but couldn't. I felt a bit tired at the start, but it's strange how adrenalin kicks in and you can go for ages. I don't really enjoy night running as I like a view, but knew dawn would be around 4:00. I got chatting to various runners along the way and we were soon at the first check point at Dryburgh at 5.5 miles. Another big tumble and also a few tree branches in the face as I looked down at the trail before the sun came up though! The sun rise was quite a sight, beautiful oranges and reds above a small loch with the trees silhouetted in the foreground. Now we could see better I was a little more confidant about not getting lost and wasting time. The next check point was Bonjedward Road crossing at 16.25 miles. I filled up my two front of running vest water bottles and extra bottle on my hip as quickly as I could. I normally take a 2 litre bladder pack for my vest but have found this quite time consuming to get filled and get it back in my back with other running kit. There was a couple of runners pulling out here and waiting for a lift back.
With the day now properly warming up, I was very glad I took the extra water bottle and some salt sticks. Morebattle was the next check point and I looked forward to some savoury food I had packed there, energy bars can be too sweet to have a lot of. My jells I had packed were working well for me too in the heat as the weather forecast predicted 20 degrees and it was starting to feel very hot! Morebattle was a beautiful village with some fantastic scenery around that area too. I was enjoying the vast open views up the hills after Morebattle and took a few photos around the half way point up Wideopen Hill. Navigation was going well with the Harvey map but I had to double check a few points.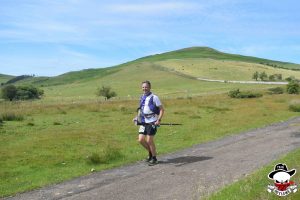 Running in the thin trails in the dark had taken up more time than I was happy with, so I pushed on to make better time in the daylight. This had paid off by Morebattle, but I started to get zapped by the heat over the large number of hills in the baking sun over the next couple of check points towards Hethpool and Wooler. I was getting really exhausted with all the ascents and found this section very tough. At Hethpool the marshalls were brilliant, filling up my three water bottles. This helped a lot as I sorted out my vest pack for fitting them back in. I was passing a few runners now that were limping and clearly were going to finish at the next CP. I had thought going through one of the various cumbersome deer fences that I was really close to getting heat stroke and wondered if I could make Holy Island! However after having some drinks and food at Wooler where my second drop bag was I felt a lot better.
The race has two starts. Most runners in wave one at 0:30, but a second at 4:30 for the fast runners who can run it within 14 hours. It was after Hethpool and Wooler that I started to get passed by these super fresh speedy runners that looked like they had run a mile or so. They were very friendly as they passed and the locals were also great for giving support along the way. There are also two distances in the race. A lot of runners I spoke to were running the 45 mile version from Melrose to Wooler, then the full 100km route to Holy island version.
It was hard passing some 45 miler runners in the bars in Wooler, knowing I had almost twenty miles to go! Cold beer would have been so good in the heat. I was popping the salt sticks every ten miles or so, they really helped me not get cramp.
One of the runners I spoke to at various points in the race was a woman that previously worked in Run and Become in Edinburgh. I ended up running with her and a few others from Wooler onwards which was great for a chat to keep us going. The race was on to make the next check point at the A1 road crossing by 18:00. We now had a few heavily wooded sections with a lot of trees down over the trail. It turned into a bit of an obstacle course for a few miles. Kneeling down under fallen trees isn't the best for legs that have done 55 miles or so at that point. After getting under and over these, it was an easier trail for a bit before losing the route in very dense forest. I had to check my OS Maps again which was telling me we were in the right position and to keep on running right ahead, another runners watch said the same. What was in front of us was a big ditch followed by thickly packed pine trees though! It was only after scratching ourselves through lots of branches within the densely packed trees we found the track just a few metres to the left! A bit of a set back after pushing ourselves on, now all that time had been lost! We made the A1 check point in time and were greeted by very helpful friendly marshals again.
From the A1 it was now just 6 miles to Holy Island. It was easy to think this was now in the bag, but I wasn't getting into a false sense of security. There were quite a few points to possibly go off route yet. We did walk for a little but had to keep on making ourselves push on as we could still be timed out. The last 5K along the causeway just went on for ever and the end didn't look like it was getting any closer. I pushed on as hard as I could in the last two miles or so as my watch battery was now dead and I didn't really know how far that distance was. As I got closer to the finish there were lots of cars passing beeping and cheering, and then people in the street congratulating us. It was brilliant to finally run into the finish line and know we had done it! Tim the main organiser of the race gave me my super bling medal and split times sheet. I was super surprised though to also get a race trophy (all finishers got one) along with the great finishers T-shirt.
I only just had time to get out of my running kit in the toilets and into my finisher bag clothes I had packed, before going down for the bus back to Wooler. Jan picked me up from Wooler and drove me back home and had even packed cold beers!
It's a great race and super well organised with very friendly marshals. They were stricter than I thought with cut off times as a few runners were timed out at the A1 crossing and one very unfortunate runner was timed out within a mile of the finish!