It was another early start for this race, you have to be up before the birds to run these long races. We had a collection of ultra runners, relay runners and marshalls in the car heading to Jedburgh.
This is the second time I have run this race and it really is up there as one of my most favourite races. Not only for the beautiful course but also the ethos the race directors have brought to this race. They have created a socially conscious race with a stipulation of entry this year being that you had to bring food for a local food bank, they are signed up to the Scottish LGBT Sports Charter, they donate money from the race each year to charity – last year it was over £2,000 to SAMH, anyone dropping litter was going to be frogmarched out to a field and shot (or at least I think thats what they said!) but they also dont take themselves too seriously and are very fond of fitting in as may expetives into race briefing and notes as they can and i think "earphone twats" might make it into next years Oxford dictionary! Sadie, Tracy and I were down for the full thing, and we also had 2 teams in – the Peni Spits and the Peni Swallows (dont ask!).
At 8 am we stood on the top of the grassy knoll for our warmup to YMCA with a dancing squirrel and then we were off. The route heads out of Jedburgh and after a bit of tarmac and a road crossing where Alan was marshalling you clamber over a metal road barrier, down some wooden steps and then your are on the trail. The route takes you along a range of beautiful tunnels of autumn colour through the woods, paths along the river, fields and lots of styles, gates, wobbly bridges (my favourite), wooden steps and boardwalks to keep it interesting before bringing you out at the 3 speedbumps otherwise known as the Eildons. I had run with Tracy and Sadie for bits and pieces of the race until now, but as we ran up the hill to the 2nd checkpoint I decided to walk and saw Tracy pulling away, it would be the last I saw of them until the finish.
The Eildons were a bit steeper than I seem to remember, but at least they were not as muddy as they were last year so not quite as hard to climb. I slogged my way up grumbling about how hot it was for the end of October and how I wished I had put my shorts on to anyone who would listen and then started smiling again as I ran down the otherside, same story for Eildon number 2, and as I was climbing No 3 I was remembering how windy and cold it was there last year with the guys for the Adventure Show chatting to us and making me run when I wanted to walk. Then it is more or less downhill all the way home (well nearly) but there is a lovely long downhill after the Eildons, through the woods and a few more gates until you get to Bowden where our ultramarathon turned into an Obstacle Course Race as they had lots of tape here to make you climb over the kids play equipment so it was up a ladder, over a bridge, up either a climbing wall or another ladder, along some rope and then down the slide! Lots of fun! I bet Rob was pleased he had got some training in at the Spartan Race earlier in the year for this bit. The route then takes you back to Maxton and back the way you came. Some of the styles that were there last year have been replaced by gates, but there always seem to be more of them on the way back than on the way out and I am sure the stairs before the Maxton checkpoint were steeper and more of them than last year. Eventually you get to your last flight of stairs and have to clamber over the metal road barrier again – I tell you its not easy with 30+ miles in your legs! I think there were a few people crippled with cramp at this point. Then it is the tough bit as far as I am concerned, back onto tarmac for the last 2/3 miles, my legs struggle hitting the concrete after trail and as I came into the long slog that is the road into Jedburgh and I started to walk I felt a hand in the small of my back and a Harmeny Runner telling me no walking now, we had missed the sub 8 hour mark but if we kept running we would hit sub 8.10 and that was enough to keep me going and we ran to the finish together in 8.09.00! A whole hour quicker than my time last year. As I crossed the line I was swept up and hugged by Sumsie the giant Squirrel and Rogue Dog the giant dog! What a finish! Lots of the Harriers were still there waiting to cheer me over the line – I love my Harriers family, you are the BEST!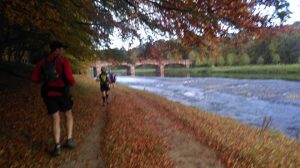 Also have to comment on the delicious soup and rolls and of course beers at the end of the race and the nice warm hall to sit and chill in postcrace and the brilliant T-shirts and medals. I had been really good and not ordered a hoody this year as I got one last year, but I love the design so much I might have to order one – alien frog green or hot piggy pink?
Results:
Sadie Kemp – 7.44.07
Tracy Philp – 7.46.36
Gilly Marshall – 8.09.00
Relay Teams
Peni-Spits – 5.53.19 -first mixed team
Peni-Swallows – 6.30.22 – third mixed team