marathon (or should it be renamed mountain ultra)
28.5 Miles Distance
6063 Feet Ascent
6102 Feet Descent
8.5 Hours Cut Off
position, gender position, age category position
Tim Doyle 06:49:35 89 M 79 MV50 6
Tracy Philp 07:03:47 108 F 16 FV40 7
Sadie Kemp 07:03:51 109 F 17 FV40 8
Half marathon (also longer than a regular half!)
14+ Miles Distance
2434 Feet Ascent
2460 Feet Descent
4 Hours Cut Off
Michael Greens 02:12:48 12 M 10 M 4
Michael Philp 02:46:46 57 M 41 MV40 16
I think the stats speak for themselves as to how tough these races were.
I had driven down in the morning with Michael, leaving at 5.30. It was a white knuckle ride as there was freezing fog to contend with from about Coldstream onwards.
The marathon began at 8.00 and the half at 9.00.
The organisers were very strict about kit and did a check at registration and I could see why once we were out on the hills. Reality set in at the briefing when we were told we could expect to double our marathon time then take off half an hour.
The first half of the race was the coldest and had the most climb. It was like running through Narnia. Unfortunately the cloud was down so we didn't get the benefit of the views at the top of Cheviot (summit 815 m (2,674 ft)). The track near the top is paved with large stones that were covered in sheet ice in places. Tracy and I put our jackets on half way up Cheviot and I am so glad we did as my hands had got so stiff they would barely work and Tracy had to help me do up my jacket.
We decided early on to run together and I am so glad we did. We chatted all they way and kept eachothers spirits up. I think Tim ran alot of the race with his neice too. It definitely helps to have a buddy to run with on a long race like this especially where it was particularly bleak. The ground was peaty and boggy , so when you broke through the surface ice in places you ended up ankle deep in mud. The second half of the race was more runnable and a more comfortable temperature and as we were down out of the cloud we could appreciate our surroundings more. We got a bit warmer and were looking forward to the coca cola on offer at the checkpoints.
The race route was well marked with arrows and flags and there were checkpoints with food (flapjack, jelly babies etc, apparently we had missed out on the rocky road) and drinks along the way and marshalls placed out on the hills to keep us right. It follows the Pennine way and later St Cuthbert's way. It was a beautiful but brutal run.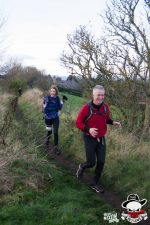 The half marathon runners had a great race too by all accounts. This was my son's first half marathon and I think any after this should be a breeze.
The finish line was inside the YHA, as the organisers didn't want their marshalls standing out in the cold all day which was very sensible. This also meant there was somewhere warm for the two Michaels to wait for the marathoners. Michael Philp was there on the last section to see us in which was lovely. We were handed a t-shirt (only medium was left by the time I had finished which was too big, must run faster next time) and medal. Needless to say I didn't hang around long after the race and quickly returned to my car to some warm clothes and to get home before the fog came down again. I thought this race was very well organised (Trail outlaws) and I would be very happy to try one of their races in the future.
There's a nice video on Youtube that gives you an idea about the marathon :