There were a few of us worse for wear for this race as it was the night after the harriers christmas party.
Juniors
Position Number Time (mmss) Forename Surname Gender Cat GenderPos CatPos
65 349 19:25 Lewis Cairns M M8-9 44 9
91 347 22:57 Calum Hind M M10-11 54 19
.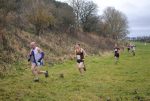 Needless to say a big effort was put in by all, even though we were feeling a bit queasy.
Seniors
Position Number Time (mmss) Forename Surname Gender Cat GenderPos CatPos
44 50 31:01:00 Yan Horsburgh M M50+ 42 7
66 287 33:03:00 Des Crowe M M50+ 59 11
81 31 33:59:00 Gillian Cairns F F40+ 11 4
92 385 34:46:00 Allan Dunbar M M40+ 76 24
94 181 35:01:00 Julie Hand F FJ 18 2
98 371 35:12:00 Zoe Fowler F FS 19 8
104 99 35:58:00 Ian Forrest M M60+ 82 3
114 142 36:35:00 Rachael Lees F FS 25 11
157 174 40:36:00 Sadie Kemp F F40+ 44 17
173 194 42:56:00 Ngeme Ntuli M M40+ 121 36
181 176 44:34:00 Daniel Greens M MS 125 36
191 12 48:40:00 Sandra Vick F F40+ 61 24
Full results: http://bordersxc.blogspot.co.uk/2016/12/chirnside-results.html