Everyone I have spoken to who has done this race always has such great things to say about it and some who do it come back year after year after year.  I did not really intend to do both this and the West Highland Way in the same year, but with the way entries work, I had to apply for this before I knew if I would get a place in the WHW and as fate would have it I got into both.
The premise for this is easy you enter either the 12 hour or 24 hour race then you run as many 4 mile loops round the wonderful Glenmore Forest as you can. There is a base camp at the start/finish where you can pitch up your tent and your supporters wait for you to come round each time and feed up you and kick you back out.  Vicky and I were both running this year and Yan was also there supporting another runner.   Vicky (who was also celebrating her anniversary this weekend) who has run this a number of times before was doing the 12 hour race and I was doing the 24 hour.  On Friday evening there was pre-race fancy dress party – this year the theme was Hawaiian, then on Saturday at 12 noon everyone starts running and the loops begin, it is entirely up to you how you run this and as long as you get at least one lap in you can't even DNF!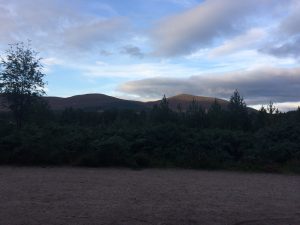 I have never run a lapped course before – apart from Parkrun and I was not sure how I would find it, it was not as bad as I thought, the loops are quite long and they feel quite different each time.  I did struggle after a few laps as I did not really have a goal so running round and round with no target was really hard especially as it started to get dark and I was questioning why I was there, but after a bit of a kick up the arse from Alan who was once again acting as my support crew and setting myself the target of hitting 100 miles, things improved mentally. I decided if I could hit 14 laps by midnight I was on for the 100 and would manage to run the 25 laps required by 12 noon, otherwise I was going to go to bed for a few hours and re-evaluate.  I got through my 14 laps just after midnight so decided I was going to tough it out and go for it.  It was hard during the dark hours of early morning when the 12 hour runners had finished and a lot of the 24 hour runners seemed to go to bed and it was very quiet with few runners around, but I cranked out a few laps with my friend Ross, who I have run with at every Ultra I have been at this year and it certainly helped eat up some miles.  He too peeled off to bed as he had not been well and I was left on my own with only a few hours to go.  My times had been slipping and I was getting longer and longer on each lap and after a bit of mental arithmetic I realised I needed to get a shift on or I would not hit my target.  Luckily I had such an amazing support crew that stuffed food down me even though I did not want to eat, filled my water bottle and told me to drink, shouted encouragement and made me realise I could do this and did not let me stop and kicked me back out on the course each and every time.  As the sun came up it got easier and the course got busier as those that had had a few hours sleep during the night came back out onto the course.   I finished my 25th lap and hit 100 miles a 11.37am to a cheering finish line, my brothers and their families had even come up to watch me run so it was wonderful to have them all there at the end, except its not quite the end, it was not a 100 mile race, it was a 24 hour race and I still had 20 minutes to go!  In the final hour of the race, they open up the short loop which is basically just round the campsite and lots of people put their fancy dress on from the Friday night, it's a real party atmosphere as everyone is out cheering you on and the music was blasting, we also had the sun shining as it was a really warm day.  I walked around the short loops chatting to some of the runners I had been on the course with and soaking up the atmosphere and at 12 noon a horn was sounded and you stop where you are and put your numbered pin in the ground and, if you are like me, collapse in a heap on the ground!
I can see why everyone loves this race so much, it is so well organised and is like a festival of running.  The supporters tents have fairy lights and signs up, music blaring, people dancing, disco lights (that might just have been our one!) people encouraging and shouting you on.  It is totally up to you how far you go and how much you challenge yourself and whether you stop for a while or keep going.
Results
Gilly – 100.91 miles
Vicky –  34.70 miles