Having tackled 3 hills yesterday I was ready for the 7 that awaited me in my most favourite city of Edinburgh. As this was my fourth attempt at this race you would think I would know the route pretty well now. Well for the most part I can find my way around Edinburgh without much difficulty you will be happy to hear. But I always find the middle part of this route a bit difficult and several times I missed an alleyway and was very glad some Portobello lassies did me the favour of shouting me back. It was great to see Dave en route and get some advice on which way to go before failing to take this into account and carry on following the people in front of me. By the time I got to Blackford hill I sent caution to the wind and tried a different route from previous years, avoiding getting my feet wet. This worked well until I lost confidence in myself and instead of heading straight along the path I headed up through the woods, then spent several minutes entangled in gorse, nettles and brambles. There was no way I was turning back down at this point so I scrambled on up the hill and eventually came back to the path not far from the top of the hill where the piper was entertaining everyone. From this point on the air got hotter as the sun broke through the clouds, I enjoyed the downhill here and saw Bert and Amy briefly. As I headed to Arthurs Seat I spotted Des, we took different routes up the hill. I headed for the most direct route simply as it was not a path I had taken before and I wanted to try it out. It was a very nice climb and I really enjoyed it. Once at the top of Arthurs seat all I could think of was being at the finish and having a nice cold drink. It seemed to be getting hotter and hotter. It wasn't long before I got there and was handed my coaster (so pleased to now have a set of four to use at home :-)). I made sure I got my miniature of whisky for doing the double, Edinburgh marathon too. Not my best time for this race but I did enjoy it and was pleased to have completed my 10 hill weekend.
Race:
29 Des Crowe 2:05:03 (Freaking awesome time and winning himself a prize)
85 Yan Horsburgh 2:19:58
95 Kevin Anderson 2:23:14
121 Alasdair Hind 2:32:01
123 Andrew McDermott 2:32:17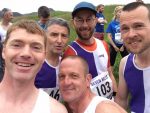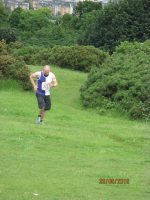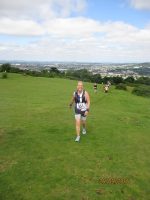 Challenge:
48 Craig Davenport 2:36:16
75 Sadie Kemp 2:41:48
104 Amy Kerr 2:47:01
158 Melanie Dunbar 3:02:12
176 Susie Maxwell 3:05:05
Des with his prize
With the formidable Des Crowe
My battle scars.